This week I finished my third tutorial; my favorite pendant and the subject of my online avatar, the
Teardrop Bubbles Beaded Bead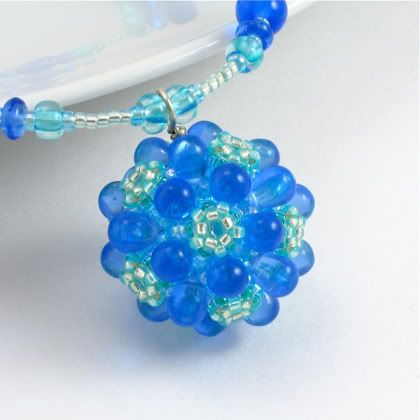 It was difficult to write this tutorial for a number of reasons. For one, it's complicated to illustrate this design, which resulted in quite a long tutorial! It clocks in at 27 pages and over 80 photos and illustrations! While it may be a bit verbose, when I write my tutorials I try to err on the side of too much detail rather than too little. This tutorial is an advanced design and can be quite tricky to weave, but my hope is that others will be able to reproduce it from my instructions and troubleshooting tips. The other reason why it was so difficult to write this tutorial is that it's one of my favorite designs and it's hard to share something so special to me. But a big part of what I want to do with my work is write tutorials, and I've received plenty of requests for this particular design. Eventually I decided that I'd rather write it up than keep it entirely for myself. Anyway, I've experimented with color patterns for this design a number of times. In addition to the pieces available in my
Etsy shop
, I also made some additional pieces. I like how the finishes of the seed beads give this beaded bead a different texture:
I love working in this color scheme. I don't wear a lot of gold but I love how it complements the blue in this piece. The smaller beads are also beaded beads, of a yet-unpublished design:
I've shown this one before, but I just had to mention it again because of how the Teardrop Bubbles beaded bead complements the
Double Bubble Jacks Beaded Beads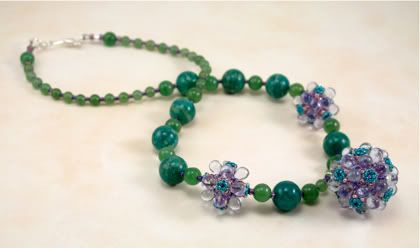 You can see more images of these and other designs in the
gallery
of my
website
. As always, if you use this tutorial, I'd love to see what you create!
Thanks for visiting my blog! Please subscribe to my mailing list for updates on the latest and greatest Bead Origami news!