I just finished my newest tutorial - the
Disco Ball Beaded Bead
.
I actually came up with this design over two years ago, long before I conjured up the guts to post my work on the internet. This beaded bead is in the shape of an
icosahedron
, a regular polyhedron constructed of twenty equilateral triangles. The sides of this structure are decorated with tiny 15/0 Japanese seed beads, which can be woven in different color patterns for very different effects. This design is a relative of the
Light Clusters
beaded bead, and in the variations section of this tutorial I discuss how to apply elements of this design to the Light Clusters design. I've
previously posted
the result of this hybrid a few times, as I tend to make copious amounts of
earrings
out of them. Like the Light Clusters, this design is hollow and completely self-supporting.
In addition to the pieces I've
already posted
, I made a new pendant in this design using lots of metallic colors: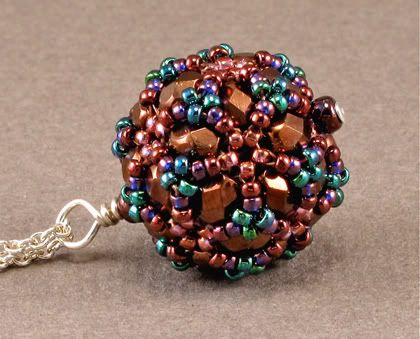 I originally made the following necklace over two years ago with silver-lined topaz seed beads and a gold-plated clasp, both of which were showing signs of serious wear. So I ripped it all apart and completely reconstructed the beaded beads using high-quality gold-plated seed beads. This necklace features a Disco Ball beaded bead, two smaller variations based on both the Disco Ball and Light Clusters designs, and two beaded bead variations based on a
rhombic dodecahedron
structure (although these turned out much more egg-shaped than I had intended). It also has three small all-seed-bead beaded beads. Venetian gold foil beads, large Japanese seed beads, and a shiny vermeil clasp complete this necklace.
This is one of the fanciest pieces in my collection, and while I don't wear it often, it usually gets tons of attention when I do. I hope that you like it too!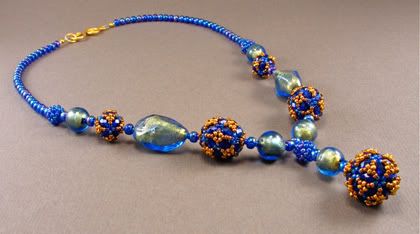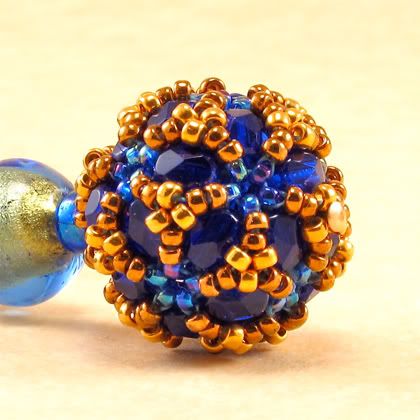 You can see more images of these and other designs in the
gallery
of my
website
. As always, if you use this tutorial, I'd love to see your creations!
Thanks for visiting my blog! Please subscribe to my mailing list for updates on the latest and greatest Bead Origami news!