A freshly-made pile of sterling silver earwires. I make them in big batches every so often, and it's not exactly my favorite jewelry-making task, so completing a batch always makes me feel so accomplished :)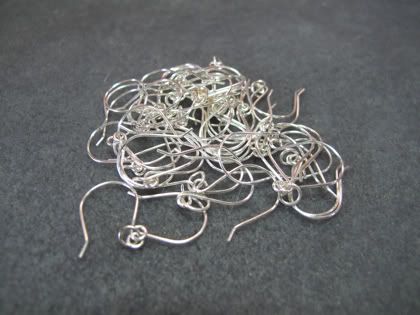 Speaking of completing jewelry, here are a few more pieces that I've made for the upcoming Craft Sale this Saturday:
While I was digging through my stash over the past few weeks, I found the this piece, half-completed, so I decided to finally finish it. The greener beaded beads are made from Japanese seed beads and large aquamarine chips, in a style that's not too uncommon but it's not a beaded bead style that I usually dabble in. Unlike most gemstone-chip beaded beads, these ones are not constructed on a peyote tube core. The smaller purple beaded beads are simple drop cubes, and the larger ones are a precursor to my Bubble Box design. The piece is strung with additional aquamarine beads, Czech glass, and rose quartz.
Here's the flyer for the Craft Sale - click on the image for additional details. I'd love to see you there!